Media & Music Salon Series
Join a select group of founders, CEOs, investors and thought leaders for Jeffersonian dinner style conversations at the intersection of fast-moving media, music and capital markets. From thematic conversations around digital disruption in global platforms and the music/media landscape, to insiders' views on the hottest, emerging opportunities, we bring together a curated community of change makers to build relationships and understanding.
Sun Jen Yung
Partner, Head of Digital Media
Nfluence Partners
Sun Jen Yung is a Partner and Head of Digital Media for Nfluence Partners. Sun and her partners have worked together for eleven years, encompassing the three years since founding Nfluence Partners after spinning out the Technology, Media & Telecom (TMT) group from Headwaters MB. Sun's focus on Digital Media and Music has included selling companies to Ericcson, Facebook, SESAC, SOCAN, Spotify, Taboola, Vobile, and YouTube/Google. At Nfluence, she also covers Consumer Tech having represented BIC Corp. last year in the purchase of Rocketbook, the leading smart reusable notebook brand. Sun's experience of 30 years in investment banking includes corporate finance coverage of Media (cable and entertainment), Digital Media, Internet and Software companies at Oppenheimer, TD Securities, Deutsche Bank, Lehman Brothers and J.P. Morgan. Sun also has experience in Equity Research at Lehman Brothers. She has completed over $38 billion in public (IPOs and follow-ons) and private equity, equity-linked and debt financings and M&A transactions. Sun received B.A. degrees in Economics and International Studies at Macalester College in St. Paul, MN and an M.B.A. of Finance from Columbia Business School in New York. Besides discovering new music, food and wines, Sun is passionate about rowing, hiking and skiing.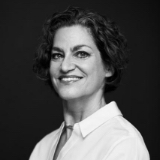 Vickie Nauman
Founder & CEO
CrossBorderWorks
Vickie Nauman specializes in the intersection between technology and music, focused on licensing, relationships and music rights data; helping get companies from point A to point B; and global strategic development. She is Founder and CEO of the boutique consulting and advisory firm CrossBorderWorks and has been busy with an ambitious portfolio of forward-thinking companies in gaming, tech, consumer electronics, finance and music since 2014. A digital music pioneer, Nauman worked on licensing and product for one of the first legal digital services MusicNet (RealNetworks JV), led strategic partnerships for connected device company Sonos, started and ran the US business for global music platform 7digital, and did digital music business in Europe and China as a consultant. She built one of the first DMCA-compliant services at taste-making Seattle station KEXP and has an MBA through the London School of Economics, NYU-Stern, and HEC-Paris, in the executive program TRIUM. She is an advisor to companies in M&A, strategic growth, and early stage startups in music/tech. Live music, art, and gadgets are a few of Vickie's passions, in addition being an avid traveler exploring the unpaved road.